Sizes: 030-040-050-063-075-090-105
Available versions: SW – fitted for motor coupling, ISW – with input shaft, SWL – with torque limiter
Power up to 7,5 kW
Aluminuium units are supplied complete with synthetic oil which allows universal position mounting, with no need to modify lubricant quantity. Moreover units without plugs reduce the risk of oil oxidation and contamination.
Reduction ratios between 5 and 100
Max torque 630 Nm and admissible radial loads max 12.000 N
Cases in die-cast aluminium alloy
Worm wheel: bronze Cu Sn12 Ni2 (UNI7013-10)
Ground worm profile ZI (UNI4760)
Excellent mechanical strength while being especially lightweight
Load capacity calculated to BS721-83 and verified according to Niemann
Painted with RAL 5010 blue epoxy-polyester powder in according to DIN 1843
Worm gear reducers are available with diffferent combinations: SW+SW and SW+ISW
Options: torque arm, feet mounting, output flange, output shaft kit, cover, double extention high speed shaft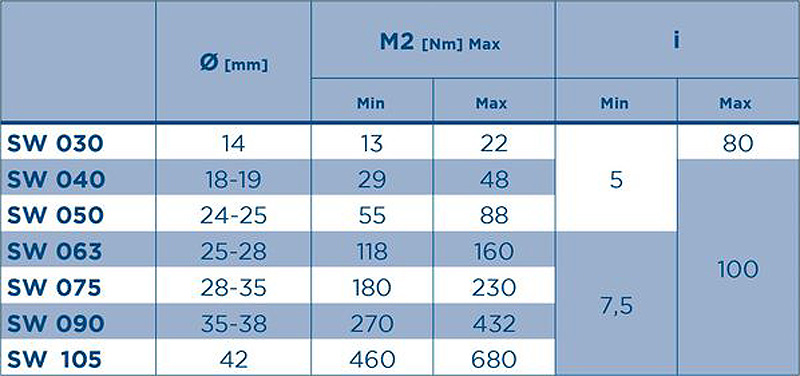 Lütfen mesaj bölümüne ürün adını yazın.